Unfortunately, the same cannot be said of the coach from Glasgow, which had problems on the way and didn't arrive at the camp until 23:30. Lets hope those teams on that coach were still able to get enough sleep.
Conditions this morning are warm but wet, the promised weather front having raced up to make the start it seems. At least the tops of the hills are currently visible, removing one navigation headache for the teams, but the question is how long will they remain so?
We will be doing all we can to keep you up to date on what is happening on the hills, although a full picture may not emerge until the mid camp later. You can check out the course maps now though, you'll see we've got a cracker this year....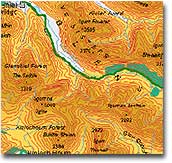 Crown copyright 2000.
All rights reserved.
Licence number 100031605
To view a larger map of the area
click the map above