There's no such thing as a sure victory in a Mountain Marathon and there is still all to play for on all the courses. In the elite class the defending champions are once more leading, but most surprising is the third and fourth place teams are made up of three quarters of the Adrenalin Rush winning Team Parrot. Surely they can't pull off such an incredible back to back victory?
Filmed by the BBC for Vets In Practice, Tom and Betty Leonard will once again be doing battle with the hills. Strongly placed in the D class they performed well yesterday, although at times you can't help feeling they would not have wanted the cameras watching, just in case they made a mistake!!
Once again you can follow all the action on the site. Reports and pictures will be posted as soon as possible and you can follow the courses on our map. There are sure to be plenty of stories to be told back at Shiel Bridge, as well as one or two people feeling the pain! Victorious teams are sure to be just feeling the elation!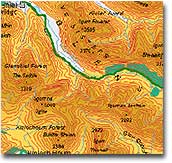 Crown copyright 2000.
All rights reserved.
Licence number 100031605
To view a larger map of the area
click the map above