Saturday
Saturday Photos | Map & RouteGadget
Competitor Blogs | Day 1 Results
Morning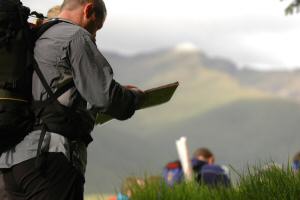 The competitors are now out on the course and are making their way to the overnight at Carnach (025281) at the east end of the small Loch na Leitreach, a place with a name on the map, but only one house, and that uninhabited. The Elite course started a short walk south of the event centre, with a massive climb from just above sea level to pick up checkpoints on either side, and at either end of the Five Sisters ridge, taking them, depending on the exact route chosen to around 1000m.
Meanwhile B,C and D competitors have been bussed south, around 20km along the A87, to starts near the Cluanie Inn. From there they are heading north towards the W end of Glen Affric. On the way, some of the tail enders will find themselves overtaken by runners on the elite as they all continue further north, with variable amounts of climb depending on the course to Carnach.
While all the other courses make a generally anti clockwise route into the overnight, the A course does something completely different. They were bussed around three miles north west of the event centre to their start and will be generally heading clockwise. As there are only 38 teams on the A they are much more likely to spend their day in solitude in the hills. The score course starts from the event centre and they could go anywhere!
One competitor who is unlikely to get lost is Steven Fallon. Although he is competing in his first LAMM, and in fact, we think, his first mountain marathon he knows these hills well. In fact he knows all the Munros well as he has done them all 14 times. We wish him luck in compleating his first LAMM along with his partner Jon Ascroft on the A course.
Another celebrity competitor (in LAMM terms anyway) is Brian Layton. This event is his 100th mountain marathon and Brian is the only person to have competed in all 15 previous LAMMs. Normally he competes with regular partner Paul Eastwood (who has also done 12 LAMMS) but this weekend he is running with Ken Jaquiery (a veteran of 0 previous LAMMs).
Oldest team on the course today (we think) is team 269, Alex and Mary Gillespie, a pair of mixed vets on the D course with a combined age of 149. For the sake of Mary's modesty we won't give her individual age, but Alex is 75.
Later...
538 Started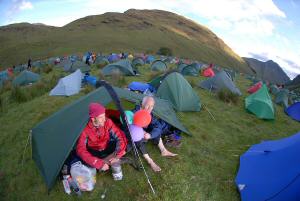 At the finish at 19:00 hours teams are still arriving. The first got here at around 12:45 just as the download tent was being put in place, but luckily the weather this afternoon has been hot and sunny, with a pleasant breeze to keep away the midges, so no one seemed to mind spending a few hours cooling their feet in the river, catching up with friends, looking at the planner's route choices for the day just eating and sleeping in the sun.
Arriving in good time were Alex and Mary Gillespie, our husband and wife team of septuagenarians and they were able to fill us in a bit more about their day. The highlight, Mary said, was dropping into the final valley and seeing the campsite. We also found out that they are no novices to mountain marathons, but they have had 13 years off since their last one.
In an event the size of the LAMM it is statistically probable that it will be somebody's birthday. We managed to identify team 246, Christopher and Ian May, as falling into that category because of the balloons tied to the outside of their tent. It turns out that Christopher (37), who has done a couple of mountain marathons, had offered Ian (63) , who hasn't done any, an entry into the LAMM for his birthday. Ian accepted and they've done rather well, managing to get into the Sunday chasing start by finishing within an hour and a half of their course leaders.
All of the linear courses in the LAMM have a chasing start but some involve more teams than others. In the Elite, Andy Symonds and Jethro Lennox came in over an hour of their nearest rivals, but the only other two teams within an hour and a half of them, Jonathan Aylward and Stephen Bottomley, and Quentin and Kevin Harding are separated by just 3 seconds.
The B course has a similar story with leaders Oleg Chepelin and Robbie Simpson again almost an hour ahead of their nearest rivals. Theirs is a particularly impressive performance given that Robbie is just 17, although he has been winning fell races against senior runners during the last year.
The biggest chasing start field is in the C class which has 50 teams in it, and leaders Tom Barr and Will Mair have only a 1 minute 31 second advantage. Steven Fallon's local knowledge and vast experience obviously did help as he and partner Jon Ascroft are leading the A class by 4 minutes 13 seconds. For completeness, first away in the D class will be Sandy Trust and Colin Crabbie, who have a 2 minute 16 second lead over their nearest rivals.
In the Score class Kenny Lietch and Keith Masson have amassed 255 points, giving them a 15 point advantage over Steve Watkins and Mick James, and Lawrence Friell and Mark Buskwood, both on 240. As they have already recorded their winning route for other competitors to see, it looks as though they did it with an audacious route choice towards the end of their day, going past the finish and back out into the hills to pick up two final controls that tool them within 6 minutes of their allotted time, unlike the second and third place teams who came in with time to spare.