Sunday
Sunday Photos | Map & RouteGadget | Prize Giving Photos
Overall Results | Day 2 Results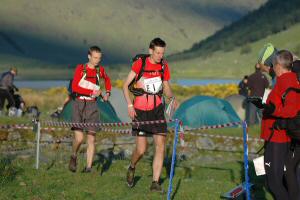 As expected, with an hour's advantage from the first day, the winners of the elite were Andy Symonds and Jethro Lennox, athough Jethro had been sick on the course and they said they had had to slow down. The other two elite pairs in the chasing start managed to take back 20 minutes from them and also exchanged places. The prize for the winners was the entry to the BAMM in Sweden on 14th/15th August, including air fares and accomodation.
On the A course, Munro bagger extraordinaire, Steven Fallon and partner Jon Ascroft held onto their lead although they were second on the day by just over a minute to Stewart Bellamy and Matt Scriven who moved up into second place. The A course also took in the summit of Beinn Fhada, a Munro, so Steven (and any other A course competitors) can count that towards the start of another round - only 283 to go!
Oleg Chepelin and Robbie Simpson extended their lead in the B course, although their advantage wasn't so big as on Saturday. Things were different on the C and D courses though, which both had a change of leaders.
On the C course James Humble and Jonathan Mor came from 4th place to win. We're not sure quite how things worked out on the course to put them in the lead, but we do know they were lucky to keep the lead when they made a significant navigation error in the last kilometre of the course. Descending the final hill they were expecting to hit a road and turn left to the event centre. But they actually came down to the left of the event centre and turned left, to end up running away from it. Luckily they realised their mistake before they blew the lead, but it was close.
In the D classs it sounds as though there was some good racing at the front of the field all day. The first 5 teams were only spread by 16 minutes in the chasing start and by half way round they were all close together and probably exchanging the lead for the day several times, before overnight leaders Sandy Trust and Collin Crabbie had a bit of a catastrophy and lost 35 minutes between checkpoints 2 and 3. The leaders at that point were then Tom Rowley and Richard Hughes who had been 5th on Saturday, but they too made a mistake and overshot the penultimate checkpoint to let the three chasing teams through – bad luck chaps.
Last, but not least, the winners of the score event were Kenny Leitch and Keith Masson though Russ Ladkin and Paul Dickens jumped up from fourth to second with the best score of the day.
As usual, as the weekend went on, many competitors had their own stories to tell. Brian Layton finished his 100th mountain marathon and declared it to have been a good one. Asked which had been his most memorable event of the hundred he named another LAMM, the one on Jura in 1997.
One piece of vital equipment for any LAMMer is the dibber or SI card that they use to record where they've been, and despite being supplied with them attached to wrist bands, every year one or two competitors contrive to lose them. Nancy Wenderickx of team 313 managed to lose hers but luckily had a digital camera with her so decided to take a picture of herself at each control to show that she had been there. Not only that, she was obviously thinking ahead about possible objections to her scheme, and realised that a good barrister would point out that a photo of her at a control would only prove that she had visited, and that she could do that with her partner's dibber – so she also took pictures of partner Gunther Deferme too. Anyway, her evidence was accepted and they were given a finish time - and on the plus side they probably also have some photos that they could enter in the LAMM competitor photo competition – there is a prize for the best scenic picture with a LAMMer in it and also for the best action picture.
Occasionally some competitors have problems that are more serious than a lost dibber. One we know about happened to team 13, Euan Mackenzie and Paul Hornsey. They were on the B course and were traversing a ridge around Mullach Froach Choire when Euan lost his footing, fell into snow, and by his estimate slid around 300 feet. He knew he was in a serious predicament and tried to use his compass to dig in and slow his descent, but eventually the snow ran out and he slid into rocks at speed. As the story was later related by our marshal (from Lancashire) who spoke to the pair at event HQ, at this point Paul uttered the words "Oh Eck!"
Although Euan was hurt and shaken by the fall, the pair eventually managed to descend into Glen Affric and luckily were picked up and given a lift to the event centre by a member of the public (and whoever you were, the event organisation would like to say a big thankyou for your help) and brought back to event HQ before retiring, but hopefully without being put off future events.
Hopefully the few other teams that declared themselves as retirals on Sunday morning weren't put off either, and one bonus of the walk from the overnight back to the event HQ was that the track took in the Falls of Glomach, a very spectacular waterfall. This was also a possible route choice for the D course and again could well appear in entries to the LAMM photo competition.
Each year the LAMM relies on support from Mountian Rescue. The first LAMM was in Arrochar and that team has attended every event since, although they always liaise with the local team as necessary. This year they reported a quiet time overall having only had to give some routine medical assistance for a few scrapes and strains. But at one point on Saturday afternoon they were on alert after a team finishing the B course reported seeing a member of another team slipping around 100 feet back down a gulley he was climbing just after visiting their 3rd checkpoint at Lochan Choire Ghaidheil just north of Glen Affric. Though they also reported that he didn't appear to have been seriously hurt.
The first response of Mountain Rescue was to start asking other finishing B teams if they had seen anything of the team that had the incident. None had until Ian Page of team 154, said "well we didn't see anyone, but I slipped down a gully". Alert over. Although Ian had taken a few knocks, he and partner Ed Robinson weren't last in on their course and even managed to put in a decent time on day 2 to finish 69th.
As well as the support of Mountain Rescue the LAMM also relies on a lot of local support in the areas it visits, not least from the various estates that it crosses.
One of these was the Kintail Estate and at the prizes giving, Martin Stone of the LAMM made a particular point of thanking Willie Fraser, the estate manager for all his help in setting up the event there. In fact he estate is owned by the National Trust for Scotland and this is the first time the LAMM has had access to National Trust land. Incidentally, in the poll of competitors to see what organisations you all belong to, around 150 of you are National Trust members, so you have all contributed to making that land accessible to the event.
The other estate making up the bulk of the course area was the Inverinate Estate, which was also the site of the mid camp. Again Martin expressed his thanks to the head stalker there, Andrew Slaughter, who helped set up the mid-camp. Also, thanks to Mark the piper from nearby Sallachy, who missed a night's sleep to rouse us all on Sunday morning.
Some courses also visited the Corrieclair Estate north of Cluanie, which is owned by the Campbell family. In a great example of how the LAMM touches many people's lives in the Scottish Highlands, Lynda Campbell, who gave permission to cross the land, had to be careful to keep the news from her brother in law who she knew had already entered the event knowing only that it would be 4 hours north of Glasgow.
The LAMM team looks forward to seeing you all again in 2010, somewhere in the Scottish Highland (and not in South Africa Martin!)