LAMM 2015 CANCELLED
It is with great regret that we have decided to cancel LAMM 2015.
We have been struggling to obtain land permissions in the fantastic area where we were planning to hold the event. Despite being under the impression that all would be be fine, we have failed to obtain permission for the midcamp location and the event centre location is also not our ideal choice. This would have been our 21st LAMM and we are very disappointed that it will not be taking place. We will of course be making a full refund of all entry fees. But all is not lost.
There is still plenty of time to enter:
Sincere apologies to all who were looking forward to their annual trip to a secret location, somewhere in the Scottish Highlands, to take part in the connoisseurs Mountain Marathon.
All the best for a great Summer of running in the mountains.
Martin Stone
Event Organiser

Scottish Highlands
A Two-Day Mountain Competition for Pairs with Overnight Campsite
At the LAMM, the emphasis is always on providing 6 challenging courses requiring navigation skills and great routes that cross the classic high mountain country. No other Mountain Marathon crosses such a mountain expanse and takes in the summits of Munros. Even those who feel that they know the Scottish mountains well are surprised that the LAMM introduces them to new, unexplored places. You are invited to join us at another magnificent venue and with an overnight camp at a wild mountain location ..... This is the "Connoisseurs Mountain Marathon".
Find out why folk love the LAMM so much - read the Strathcarron 2014 feedback here, watch a great video filmed at the event by Dave Suddes while he was competing and also our film of Strathcarron 2014.
Film of LAMM 1997 Isle of Jura Classic
Watch the film of our magical event on the Isle of Jura and remind yourselves of that wonderful weekend in 1997 - a 45 minute film in 2 parts at: http://vimeo.com/92236923 and http://vimeo.com/92236924
Strathcarron 7th/8th June 2014
A Two-Day Mountain Competition for Pairs with Overnight Campsite
Location is 4hrs Drive North of Glasgow/Edinburgh, 1.5hrs from Inverness (A NorthYear!)
PHOTO STREAM | PRIZEGIVING PHOTOS | PHOTO COMPETITION
REPORTS: SUNDAY | SATURDAY | FRIDAY | WINNERS | DAY 1 LEADER'S | PLANNER'S
FEEDBACK | COMPETITION MAP | PLOT YOUR ROUTE AND COMPARE TO OTHERS
RESULTS: DAY 1 | DAY 2 | OVERALL | OUTDOOR CHAMPS | UNI CHAMPS
Winners of the 2014 LAMM
Elite Class - After leading overnight Duncan Archer and Jim Mann won the Elite Class in a time of 11.52.45 (Day 1 = 6.24.28 Day2= 5.28.17).
A Class - Also leading overnight were Tim Laney and Steve Watts in the A Class. They also held their lead and took 10.59.07 overall (Day1 = 7.05.28 Day2 = 5.09.43).
B Class – On Day 2 Andy Charlton and Brian Wakeley did a similar time to yesterday to finish in 10.22.55 (Day1= 5.13.12 Day2= 5.09.43).
C Class - Patrick Wallis and Paul Williams also did a slightly longer time on Day 2 and won in 9.45.52 overall (Day1= 4.46.29 Day2 = 4.59.23).
D Class - The tough D Class was not so tough today and Daniel Sutherland and Lachlan MacLeod took only 4.36.50 compared to yesterday's 6.32.28 with an overall time of 11.09.28. They were 54 mins ahead of Garry Fraser and Russell Henderson.
Score Class - Overnight Leaders Kenny Leitch and Keith Masson hung on by the skin of their teeth to win the Score Class with 521 points. Their 11 point lead was cut to a single point by Phil Hodgson and Phil Scarf.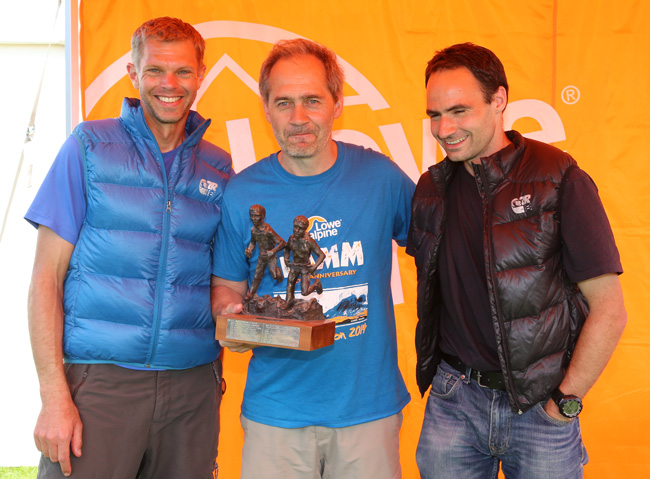 Elite Winners, Duncan Archer and Jim Mann with Martin Stone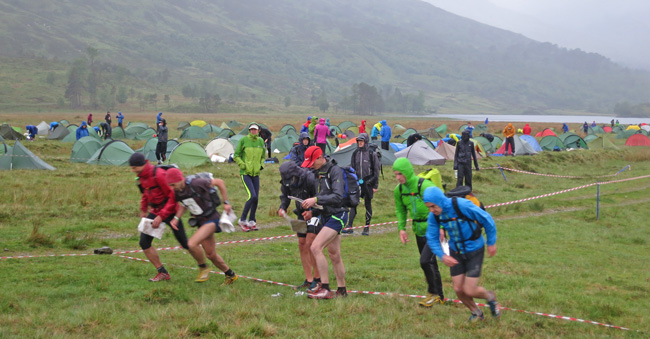 Sunday Morning - The leaders set off on the chasing start.
More photos from this morning on the photo stream.
Saturday's Race: Early conditions could not have been better for mountain marathoning - sunny skies, a light breeze to keep away the wee beasties and temperatures rising. These remained for much of the day with light showers coming in the afternoon and the breeze picking up in the evening. Duncan Archer and Jim Mann lead on the elite course, read more...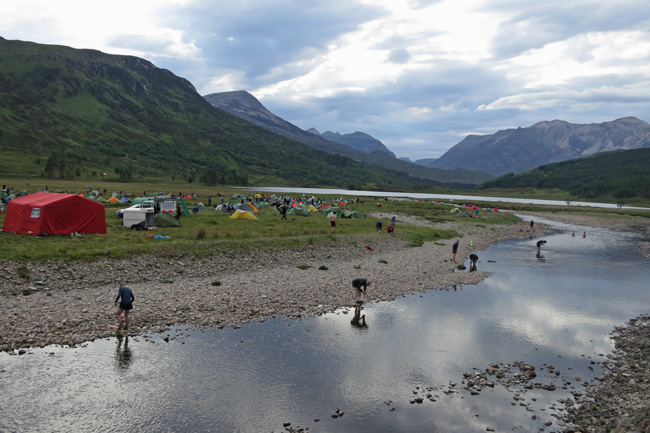 Midcamp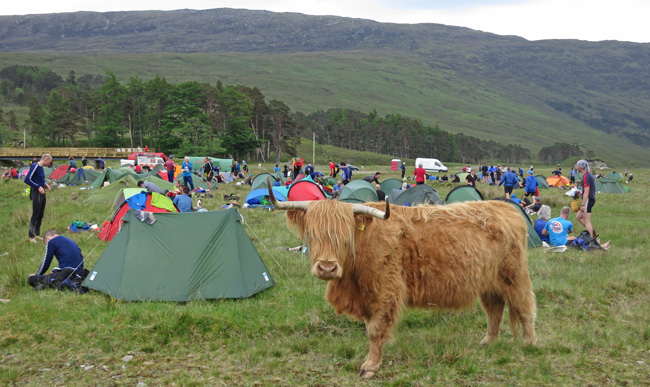 Midcamp Vistor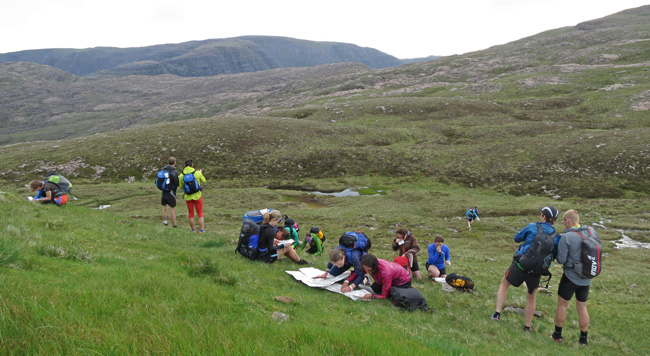 Elite and A Start at the top of Bealach na Ba with Beinn Bhan (highest of the Applecross mountains, a Corbett at 896m), in the distance - the first checkpoint on the A course.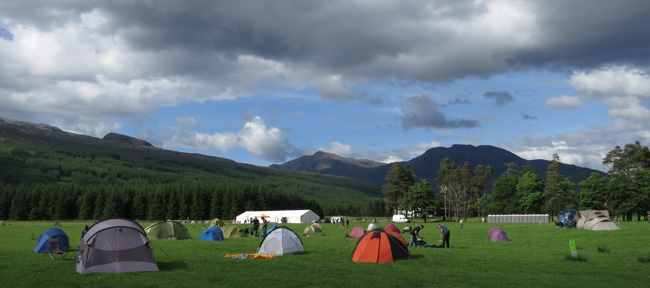 The sun is out and competitors have started arriving at the event centre.

The LAMM makes a welcome return visit to Strathcarron at the head of Loch Carron after a gap of 10 years. Will the weather be more forgiving on Day 1 when there were wintry conditions on the high ground?

As competitors arrive at the assembly area on Friday conditions could not be better. The clouds are melting away and the sun beats down on the drying meadow, the tops are out and the breeze is keeping the midges in. read more...

LAMM 2014 LOCATION ANNOUNCED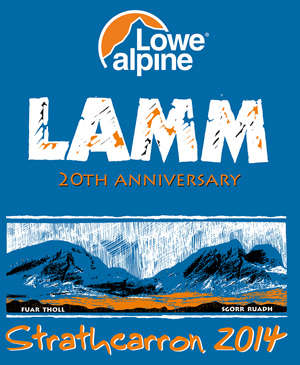 LAMM Tee Graphic

The event centre is at New Kelso Farm, IV54 8YR. The arrow on this map shows the Event Centre field. You'll see yellow LAMM signs turning you off the main road and up the drive. Please drive slowly up the drive and follow marshals directions to park on the fields, which are still firm despite some rain this week. Camping is adjacent to the parking field. Please read and print the Final Details. There should be accommodation in Strathcarron, Lochcarron or further afield in Kyle of Lochalsh, Plockton and Achnasheen.

On Friday night there may be temporary 30 minute road closures on the A9 at Dalnacardoch, 11 miles north of Blair Atholl. These could take place at 23:00, 01:00, 03:00, 05:00 to install overhead power lines. This weekend the MTB World Cup comes to Nevis Range, Fort William. On Friday afternoon/evening the A82 past Loch Lomond is likely to be slow. The A889 from the A9 at Dalwhinnie towards Laggan will also be slower than usual. Sunday could be more of a problem as there are likely to be about 8-10,000 people all trying to leave Nevis Range from 16.15-1830 so we urge you to avoid travelling via Fort William and Loch Lomond. After that it should be fine, but it would be wise to listen to the traffic reports in case of delays/accidents.

Those who have booked LAMM Transport should now visit the LAMM Transport page.

If you are using the LAMM Live Photo Stream it is now time to stop using the Pre Event and CHECK IN to the LAMM Connoisseurs Mountain Marathon Event.

Have a safe journey. We look forward to seeing you from 3pm onwards and registration opens at 4pm.

Martin Stone
(LAMM Organiser)

OUR CONTROLLER ANDY SPENCELEY WHETS YOUR APPETITE ....
Now you're packed and ready to go, you'll be wanting last minute tips and clues as to what you're about to face (apart from the Scottish weather and the occasional midge!). So how to sum up this area? Not easy, but the wildlife is surprisingly abundant – Springwatch eat your heart out! Among other creatures, it's full of Deer, Cuckoos, Hare, Deer, Greenshanks, Deer, Golden Plover, Ptarmigan and even some more Deer.

As often with an area used for the LAMM and, perhaps, even more than usual this year as we don't want to change tradition(!), it is very mountainous and rough, dominated by lots of rock and covered in lochans. However, don't try to avoid all the rocky areas as sometimes the rocky areas make for the fastest running. A word of warning, though, many crags are unmarked. As an easier option, a lot of routes give the chance to use some of the extensive network of stalkers' paths but only you (and your team-mate) can decide if it is worth it.

Even after missing a year, you won't have forgotten that a LAMM takes you into the heart of the biggest Scottish mountains on an adventure. It is the Connoisseurs Mountain Marathon and you won't be spending the whole day bog-trotting on flat moorland or grassy hillsides (but don't worry, your feet will definitely get wet!). There are big climbs, high cols and quite a few rivers to cross….and a lovely flat, open area, beside a nice river, to camp and recharge before heading out for the second day. Good Luck. Andy Spenceley