Round Up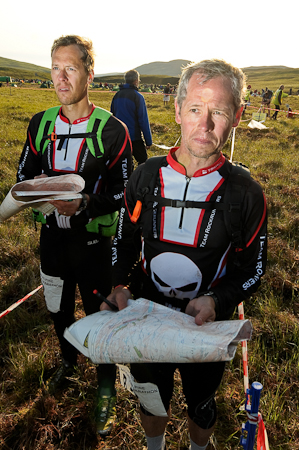 If you were a competitor at this year's LAMM you may have been wondering who the several competitors were with skull motifs on their tops. They are all members of a loose affiliation of Swedish runners called Team Rockrunners. I spoke with Tomas Albinsson and Peter Juthberg who have been to the LAMM twice and three times before respectively and who this year came in 5th on the B course. Back in Sweden their team members do quite a lot of informal off-road running, the BAMM, which is the Swedish equivalent of the LAMM, and of course and fair bit of orienteering.
In total we reckon there were actually eight Swedish teams at the LAMM this year and based on addresses from entries received we also believe there were: one Danish, three German, one Dutch, two Spanish, and some Irish teams at the event (at least two Irish that we know of, but harder to spot as they're not all called O'something and some of them don't have overseas addresses)
If you are interested in hearing how Marjorie Winter, our competitor with Parkinson's Disease got on, she has written up a very full and interesting blog post on her two days at the LAMM here: http://www.wobblywilliams.com/marjorie.html But in short, she was fine and got round the D course (taking in 2 Munros on the way) in 79th place in a combined time of 20:03:51 (which makes the score look like a walk in the park)
With a week past since the 2011 LAMM several other competitors have been active around the web and in the blogosphere, so we bring you a round up of the best reports that have come to our attention:
Over at the Planet Fear website, Ant Cooper and Sally Ozanne, racing as team Planet Fear, who were 23rd in the B class, have written their report on the event - http://www.planetfear.com/news/LAMM_2011_Report_2700.html
Di Gilbert who with partner Susie Allison was 13th C course and has given her account of the event on her blog - http://www.digilbert.co.uk/newsarticle.asp?id=136
Kate Cheesewright lives in Cheshire but seems to spend every weekend in Scotland. I've met her twice before at events I've been photographing this year, the Strathpuffer (24 hour mountain bike race in January!) and the Highlander MM. This year she was 54th in the C class with Jane Owen-Pam and you can read of her many adventures on foot, mountain bike and skis, including the LAMM, here: http://teacake-kate.blogspot.com/
Rhiannon George was 66th in the Score class with her partner Penny Clay. She has some particularly evocative B&W photos of the event over at her blog The Thin Line That Leads Us, which also includes articles on her sea kayaking and travelling - http://heliospanoptes.blogspot.com/2011/06/mountains-and-molehills.html
Don't forget the photo competition for competitors Rhiannon.
Carnethy Hill Running Club as always had a whole bunch of competitors in the event, Konrad Rawlik who with partner Ondrej Mandula was 4th in the elite has posted his write up on the Carnethy website along with that of Cameron Scott who with Stewart Barrie was 44th in the Score - http://www.carnethy.com/reports/2011/rep_lamm2011.html
Steve Fallon has his own blog where he has written a report on his win in the score with yet another Carnethy runner, Jon Ascroft - http://stevenfallon.blogspot.com/
Another report, again with nice photos comes from John Duff who ran to 16th in the A class with his partner Paul Hainsworth. It can be found over at the Northumberland Fell Runners site at - http://www.northumberlandfellrunners.co.uk/html/racereports/2011/LAMM.html
Finally, if you want to practice your Spanish, or French, or Swedish, have a look at:
http://demonfit.com/2011/06/low-alpine-mountain-marathon-lo-que-mata-es-la-humedad/ by Juanjo Pérez Mélida 36th B class with Ramon Garcia-Catalan
http://val-en-cavale.blogspot.com/ by "Val" (possibly a significant other) recounting the exploits of Martin Fitchie and Hugues Lacroix
Or, possibly the most detailed control by control account from our Swedish friends Tomas and Peter from team Rockrunners at http://teamrockrunners.blogspot.com/ And even if you don't speak Swedish you should look at this via Google translator, which adds a certain something to the account, as per this extract
"On the way to the start we had to map the size of an oil drum lid as usual. But this year there were already all checks drawn on the map which would make it easier for everyone to find just the control that coordinates described. We got on the bus that would take us to the start which was about 20 minutes away up the valley. We trudged over to the man who would launch us and after a quick pee so we squeaked up time."
Jon Brooke
Jon took over 2000 pictures over the weekend and they are available to view or buy from his website at www.rightplacerighttime.co.uk